The guest author/artist list for the upcoming St. Stephen's literary festival is now up over at their site. Headliners include Pulitzer Prize-winner Tony Kushner (Angels in America), Tim O'Brien (The Things They Carried), Over the Hedge co-creator Michael Fry and over a dozen other literary and artistic luminaries and totally awesome folk. I'm basically agog to be in their company, and, not incidentally, glad to have some Texas weather in my not-too-distant future… Should be a fabulous time. Will report back.
Are you one of the gazillion or so science fiction/fantasy/comic book groklings who are transporting in for the upcoming NewBo Con comics convention at NewBo City Market in CR on February 7? Well, y'all have an added attraction to shoe-horn into the schedule-y lobes of your wily, genre-seeking brains.  At 1 PM that afternoon, I'll be reading from and signing copies of Zenn Scarlett's latest science fiction/fantasy thrill-ride UNDER NAMELESS STARS at New Bo Books, across the street from the market at 1105 3rd Street SE, Cedar Rapids.
Newbie recap: Under Nameless Stars is the sequel to the debut book in the series,  Zenn Scarlett (first published by Strange Chemistry/Angry Robot Books; distributed in US and Canada by Random House, for those who care about that stuff).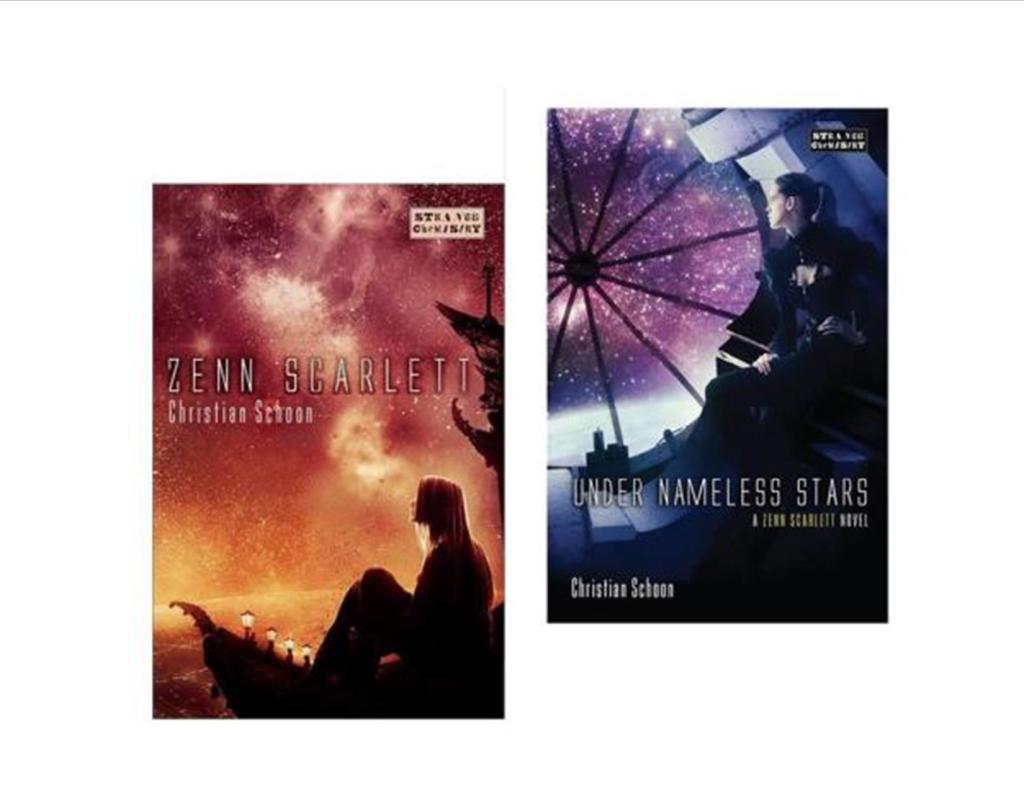 The event is open to the public and is free; though the cost in unadulterated awesome is still being calculated. So, if you're in town for the con and want to know what uncanny species of alien life form our favorite young exoveterinarian is  examining/ healing/running-like-Hell-from in her latest outing, drop by New Bo Books and grab an easy chair. It'll be the most fun your ears and their attached neural matter will have all day. Hope to see some of ya there. Cheers!
Am honored to find myself on the list of authors and other creative types invited down to Austin, TX, for the 2015 St. Stephen's Literary Festival in February.
All the deets from the St. Stephen's announcement:
Another exciting event sponsored by the Friends of Becker Library is the biennial Literary Festival, which will take place on February 25, 2015.  On that day, a wide variety of notable writers will visit our campus to give presentations about their writing to our students.  Every student will have the opportunity to attend two presentations of his or her choice.  Additional events include a lunch for parents, followed by an author presentation for adults.
Their 2013 Festival featured names like Carrie Ryan (The Forest of Hands and Teeth), Richard Linklater (School of Rock), Jeff Kinney (Diary of a Wimpy Kid) and Lawrence Wright (The Looming Tower). I'm looking forward to a truly awesome event.
As I suspect you've sussed out from earlier posts,  I'm always super-appreciative whenever Zenn's books are reviewed by the universe at large (thanks again, universe). And the review takes on a uniquely relevant slant when it's spun up from a blogger working on his PhD in astrophysics (as well as putting in time crafting his own debut SF novel). Here's what the deeply perceptive TPG Reviews had to say about Zenn's most recent adventure: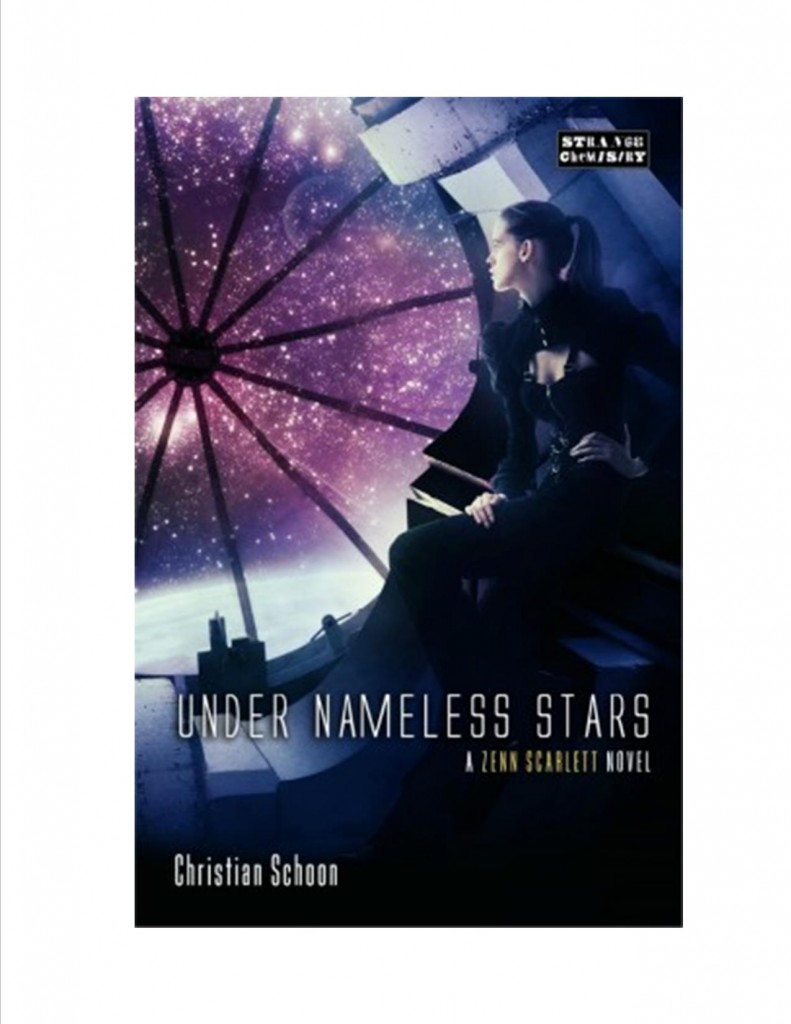 "Under Nameless Stars ups the ante considerably over its predecessor, pitting Zenn Scarlett against a galaxy-wide conspiracy with none other than herself at the very center. With time in short supply, Zenn must use her exovet* skills in previously-unimagined ways if she is to survive.
…The stakes are higher, the action is faster and the worldbuilding even more accomplished than before. Zenn remains a well-written and relatable protagonist, and all of the side-characters are equally well-constructed…
Under Nameless Stars is a highly worthy sequel, and one that anyone who read Zenn Scarlett ought to read immediately…
*Exoveterinarian.  As in, a vet who specializes in exotic alien animals. Cool, no?"
So, a big Zenn-ish thanks to TGP Reviews. Much appreciated – cheers!
From the profoundly discerning and generally awesome-pants book-scout savants over at Kirkus:
Best Bets for Speculative Fiction Reads April 2014 By John DeNardo 4/2/14
There's no shortage of great speculative-fiction reading, as evidenced by this roundup of the best bets for entertaining, thought-provoking and wholly enjoyable reads made up of new books hitting the bookshelves this month..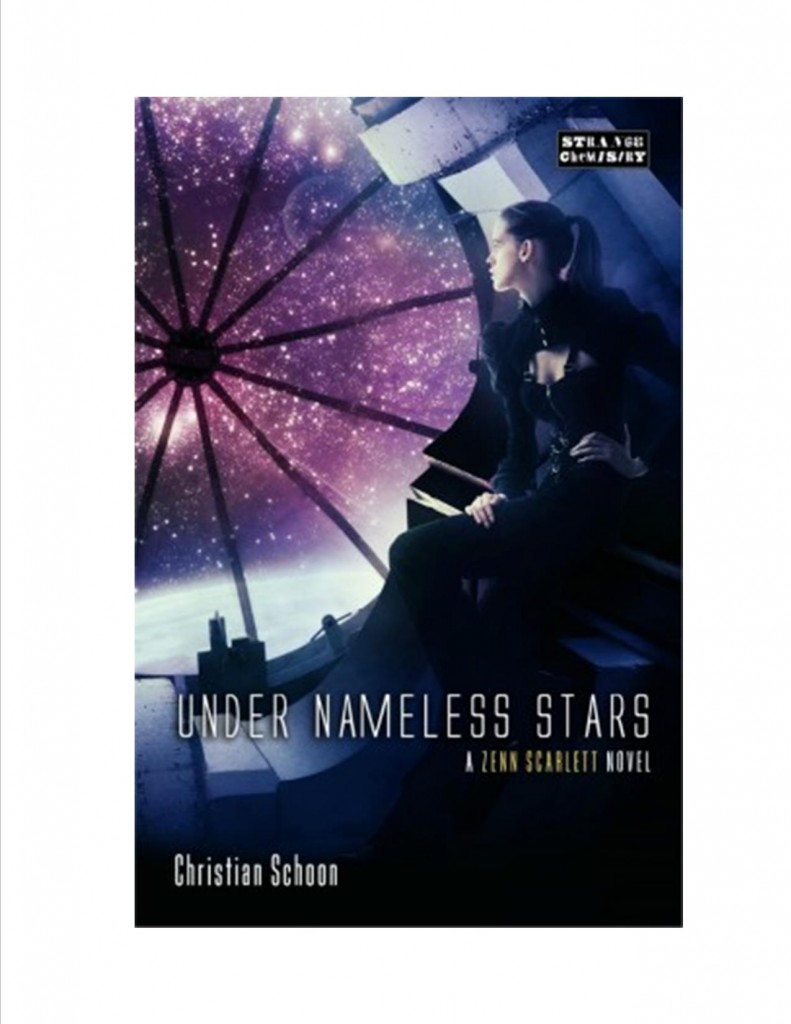 .
Under Nameless Stars by Christian Schoon
WHAT IT'S ABOUT: A young exoveterinarian (a caretaker of alien animals) becomes a stowaway on a ship powered by an alien dimension-jumping beast in order to find her kidnapped father.
WHY YOU SHOULD READ IT: This sequel to Zenn Scarlett continues the story of a smart young girl who can easily hold her own in a world of conspiracies and craziness.
(Note: «««« means "4 stars." For some reason, one cannot have real stars in this wordpress post and I don't have time just now to figure out how to fix that. Annoying. I know, right?!)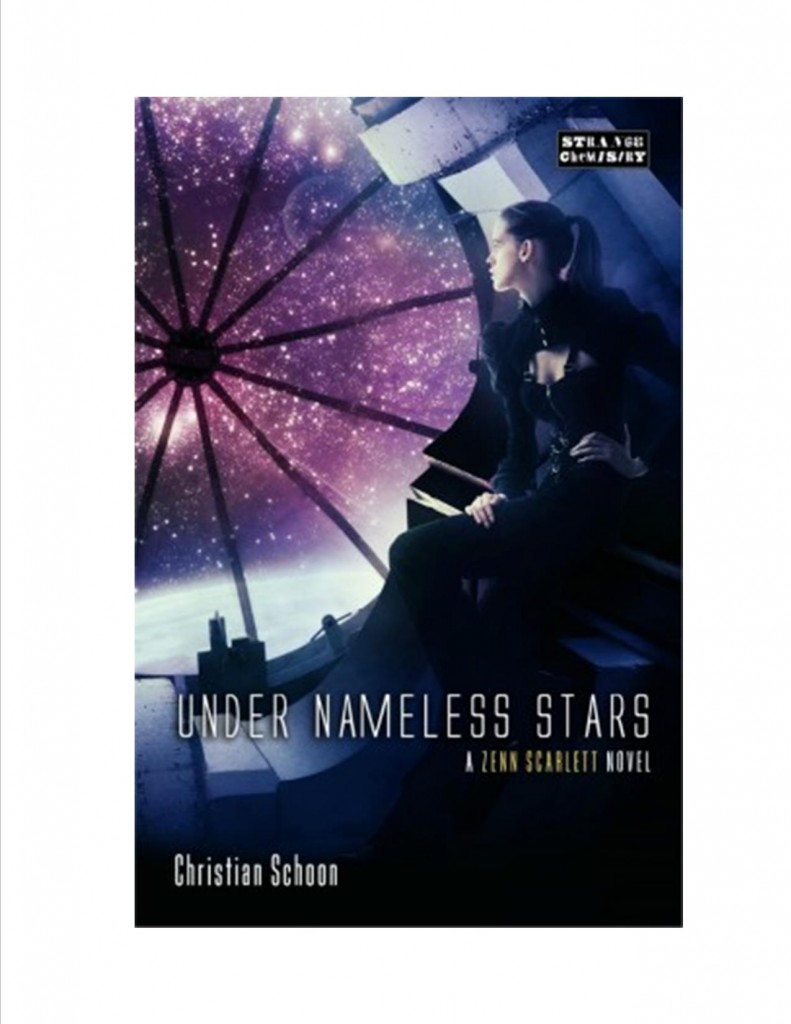 «««« "Under Nameless Stars is such an exciting adventure… Christian Schoon is a fine writer and there were plenty of moments that made me laugh out loud while there were others that made me gasp with the whole 'wonder of space' thing that I love with good science fiction. Zenn is a wonderful heroine, brave, strong and caring, and this empathy she has for all species is transmitted through her to us… There is a sense that anything or anywhere is possible. As a result, every chapter was a joy to read and much of it had me on the edge of my seat (Schoon is a master of closing-chapter-lines). More, please." – For Winter Nights Book Blog
««««  "Oh my goodness, this book! Under Nameless Stars took Zenn's story to a whole different level, and I loved every minute of it! Things are darker, scarier, twistier, and all of the stakes are even higher than they were before.  There's so much going on that I just had to keep reading to find out what was going to happen next!" – Ashley Ferguson, AP Book Club
8.8/10 "There aren't many YA books that take to the stars, but Schoon easily proves that YA and space opera can be a perfect mix… this is fun book that I had trouble putting down. Under Nameless Stars was a pleasure to read, full of joyful moments… a book that mixes together the best elements of Doctor Who and Doctor Doolittle…" – Fantasy Book Review
"A rollicking adventure, filled with strange alien creatures, incredible danger and truly exceptional characters. This is a sequel you won't want to miss."
– ReadMoreBooksYouLove.com
 "Zenn Scarlett really set the stage with excellent world building…Under Nameless Stars takes the series to a whole new level…exciting and compelling, with wonderful humor… this one is going to appeal to all ages who like action-adventure, intrigue, sci-fi and animals…  I can hardly wait to see what happens in Book #3!" –MK,  Popcorn Reads
"For readers of the first Zenn Scarlett novel, Under Nameless Stars proves to be a marvelous second act…  an adventure story that shows even the smallest act of kindness can literally change the universe. Schoon is a careful writer, meticulously detailing his characters both physically and emotionally, making it easy for readers to connect with other-worldly creatures…" – Laura Farmer,  TheGazette.com
"…I feel that the idea of an exo-veterinarian is just about the most brilliant concept for a science fiction book.  This concept, along with Schoon's wonderfully created creatures, still has me enthralled with the books… I definitely recommend it to any YA readers who like sci-fi/adventure books. Looking for a good book?  This sophomore novel in the Zenn Scarlett series is inventive and active and captivating; and a real delight to read!" – Looking for a Good Book
«««« ½  "An exciting and worthy follow-up to Zenn Scarlett, with an assortment of loveable new characters… Under Nameless Stars was a perfect blend of action and adventure, character development and humor. Schoon once again proves how inventive he is by adding a plethora of alien critters to his story, lovingly described and fantastically imagined. Add in a hefty amount of adventure and you have a winning combination…. Zenn is truly is one of my favorite young adult characters."—Tammy Sparks, Books, Bones & Buffy
 «««« "Action-packed … I recommend it to anyone looking for a fun space adventure and, of course, to anyone who enjoyed the first book." – Tsana Dolichva, Astrophysicist and Science Fiction Author, Tsana's Reads & Reviews
«««« "Schoon has really upped the ante with this book. A great sequel to one of my favourite books from last year."   – Ryan Lawler Reviews, Goodreads
«««« ½ "… a spectacular sequel… Exciting and action-packed. .. had me hooked from the first page…phenomenal." – Lucinda Reviews, Goodreads
««««"(The Zenn Scarlett) series is another unique addition to its genre: YA Sci-Fi, from Strange Chemistry/ Angry Robot Books. I was very impressed with the world building in this novel…  Schoon has a vivid and fascinating imagination, and his novels are absolutely overflowing with his inventive creatures and settings." – Avid Reviews
 «««« "…this one I seriously enjoyed…full of action and humour and plenty of food for thought too. A very good science fiction read with all the elements there… The themes are quite universal… but they're still very much relevant for our current society. Very well deserved 4 stars.  A fun page turner!" – Pili's Reviews, Goodreads
«««« "…Under Nameless Stars is a wonderful sequel… The world building continues to be excellent and oodles of fun!  It's jam-packed with colorful characters, humor, and action. I got a bit teary eyed at the end…  I certainly hope there are more adventures to come for Mars' newest hero!" – Pinkindle Reads and Reviews
«««« "…just wow! The series has this rich diversity of planets and alien species… It was amazing… highly entertaining." – YA on My Mind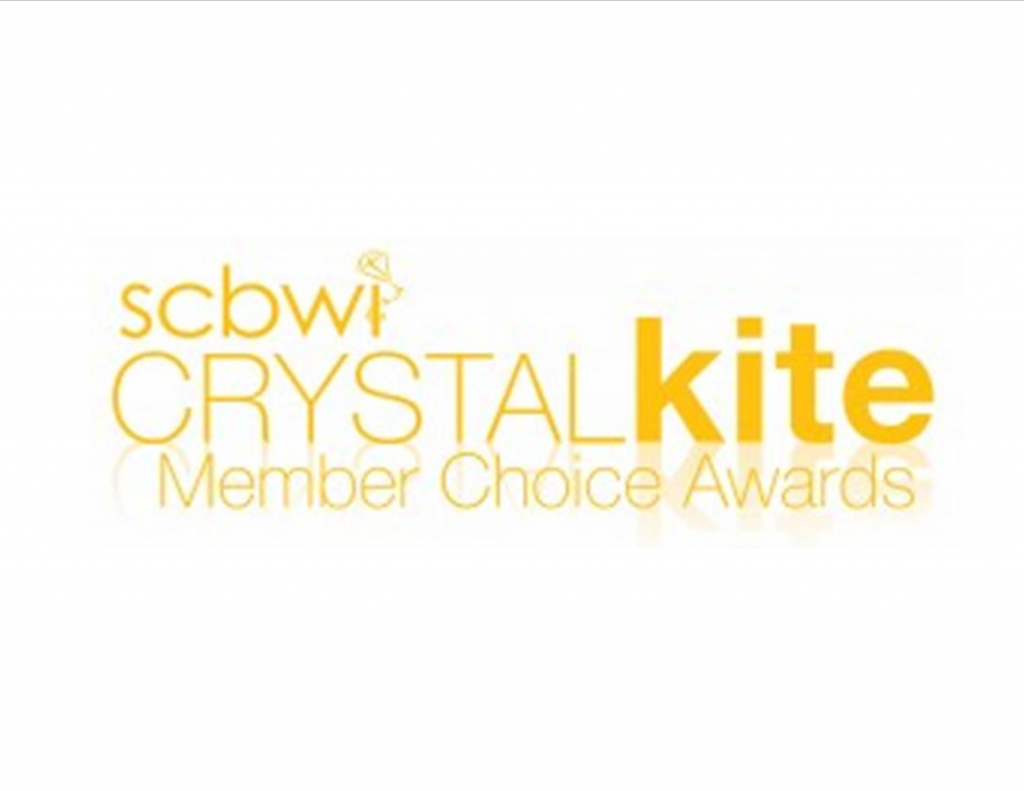 Voting for the Crystal Kite Award presented by the Society of Children's Book Writers and Illustrators (SCBWI) is now open. Winners announced in May.
             Sooooo, if you happen to be a voting member, liked 
Zenn Scarlett
and wanna vote for it, 
Zenn says that in return she'll provide exoveterinarian services for the off-world life form of your choice for an entire year. Pretty much an offer ya can't refuse, huh?  Thanks to any who drop in a ballot for my fave red-haired exovet.    Cheers!
   From the all-knowing wiki: The Crystal Kite Award  (also known as 'Crystal Kite Members Choice Awards') are given by the Society of Children's Book Writers and Illustrators (SCBWI) each year to recognize great books from the 70 SCBWI regions around the world. Along with the SCBWI Golden Kite Awards, the Crystal Kite Awards are chosen by other children's book writers and illustrators, making them the only peer-given awards in publishing for young readers. Each SCBWI member votes for their favorite book from a nominated author in their region published in the previous year.
(Or: wanna know what you're getting yourself into? Maybe leave a rant– I mean, review on Goodreads? Scroll down, Earther.)
Buying Info:
North American Print & Ebook Amazon.com | Amazon.ca | BarnesandNoble.com | IndieBound.org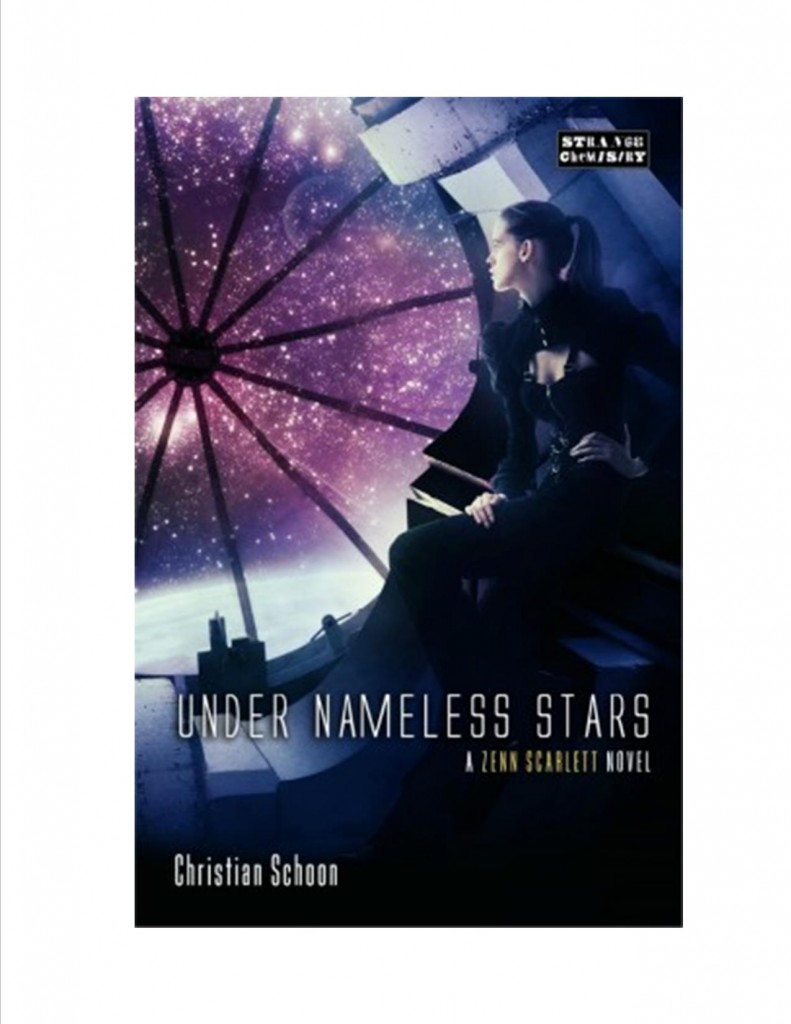 UK Print & Ebook Amazon.co.uk | Book Depository | Waterstones | WHSmith
Global DRM-Free Epub Ebook Robot Trading Company
Other Books in This Series:
1. Zenn Scarlett (May 2013)
Discuss and Share:
Discuss and Review Under Nameless Stars at Goodreads.com
Read an Extract:
http://issuu.com/angryrobot/docs/undernamelessstars_samplechapter/1?e=1844177/6976657