The obligatory authorial back story: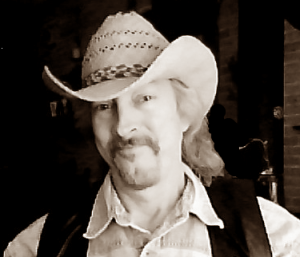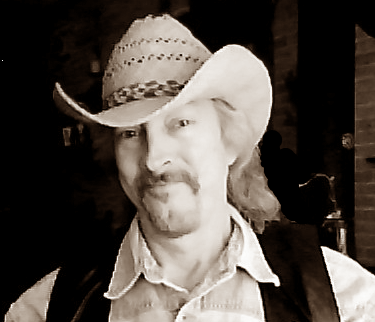 These days, my wife Kat and I live in a rambling Victorian house on 11 acres of rolling Iowa prairie, where we ride herd on a rotating cast of anywhere between 5 and 20 rescued horses and/or donkeys, one busy little Aussie-mix mutt named Django (the guitar virtuoso, not the Tarantino film). Also: an elderly ferret named Tonic and an undisclosed number of house and barn cats.
Before: I grew up in Luverne, Minnesota, population roughly 4,500. (My family and closer friends would argue with the growing up claim.) Spent my senior year of high school in Sweden as a foreign exchange student. (I lived in a Stockholm suburb called Djursholm: "Animal Island." Prophetic?) During various breaks and wanderings-off in college, I did some acting, worked in a couple of hotels/restaurants, toured with a theatre troupe, sold antiques, sang lead, played bass and/or wrote lyrics in various rock bands (two of them pretty decent, one of them opened for Santana), shingled roofs, sold Halloween costumes, wrote for a med school paper. After ten years, I ended up with a degree from the School of Journalism at the U of Nebraska, moved to L.A., bounced around, got my first serious writing job at the Walt Disney Studios in Burbank, spent a few years there, went out on my own as a freelancer, wrote entertainment industry ads, trailers, DVD box copy, online movie blurbs, etc., cranked out  scripts for a number of kids/teens TV shows. I met wife Kat during this period. She had acted in Equity Waiver theatre in LA, did a little TV, worked in retail and clerical and, for several years, was one of the key foodies keeping diners fed and happy at the fabled Malibu Inn. She's now the Development Director and fundraising event maven for the state's one and only and totally amazing regional spay/neuter clinic (Iowa Humane Alliance – drop by and say hi).
Further along in the Before: our house in Malibu burned to a well-done crispiness in the wildfires of '93. Thanks to decent insurance, we were able to live on the beach for two years as we rebuilt. A number of years after that, we pulled up stakes and moved from L.A. to our rancho here in Iowa (I have family in the area), where I wrote my first  books, landed a skilled and resourceful literary agent — that would be Adam Schear of DeFiore and Co., New York — was elated to see my Young Adult science fiction series sold to Angry Robot Books, one of the most admired indy genre publishers in the solar system and… here we are.
When not SF-ing, I continue to write marketing materials for the dreadwizards of the entertainment industry and also provide "flap copy" and other marketing material for other authors' books via Kirkus.  I'm also a member of several awesomely awesome local animal welfare groups who save and then nurture-back-to-health abused or neglected horses, re-hab wildlife and work to humanely reduce feral cat populations through low-cost, high-quality spay/neuter services and Trap/Neuter/Release programs. I also periodically schlep stuff or do some writing for the groups. Part of this involves providing barns, sheds, corrals, enclosures and other spaces on our farm for temporary housing of everything from our horse herds to full-grown black bears and cougars, orphaned coyotes, raccoons, possums, feral cats, the occasional white tail fawn and, rescued from some over-eager barn cats: one very cool least weasel.