All manner of books-and-comics-and-artists-and-authors stuff is slated to rear up and word-out in Iowa City on Feb. 27th as the One Book Two Book Lit Fest & Jr. High Writing Jam storm into town and touch down at the Hotel Vetro, the Mill and other lucky venues. Get the deets here…and mark yer calendars! See you there.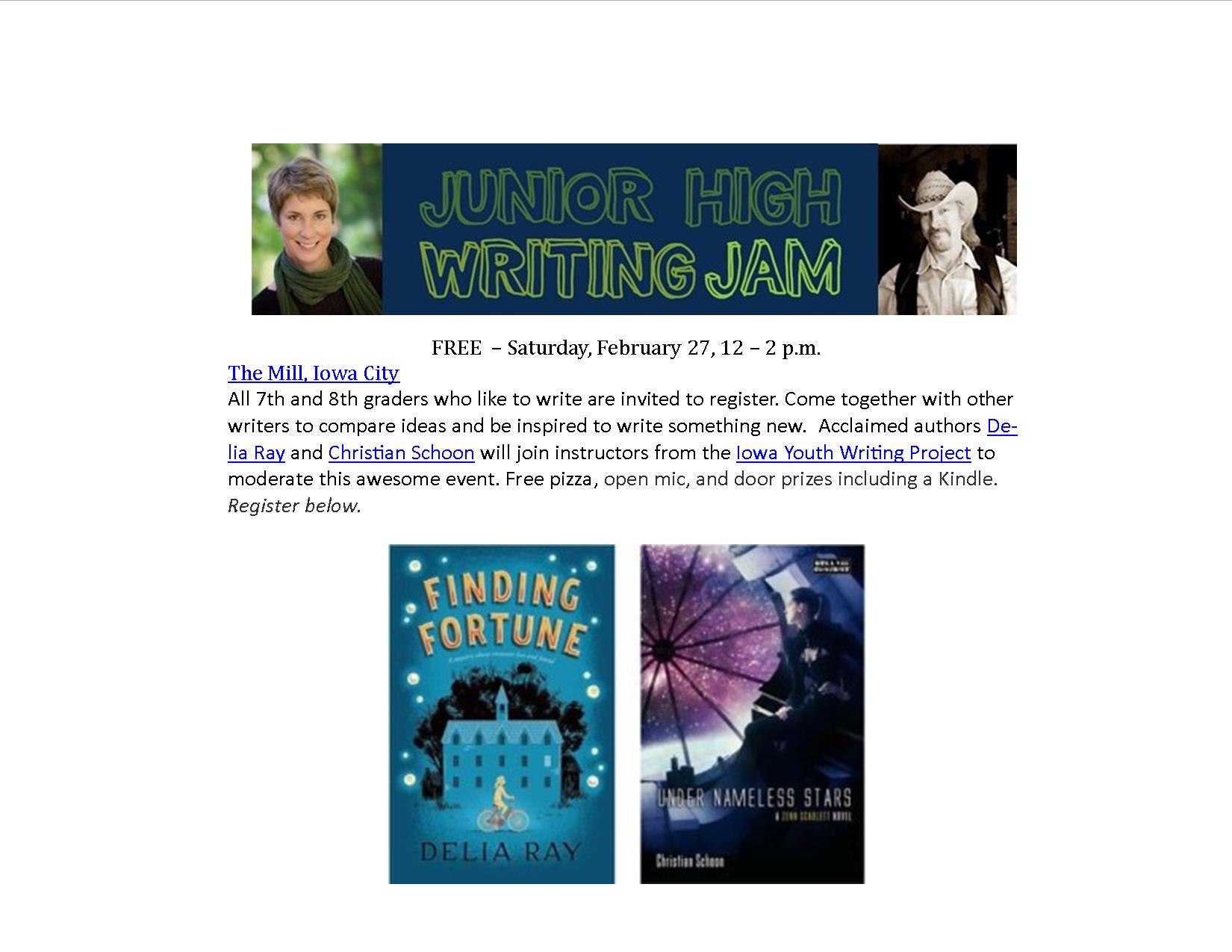 From the festival HQ:
2016 festival set for Feb. 26-28
The 2016 One Book Two Book Children's Literature Festival will be held Feb. 26-28 in downtown Iowa City.
The festival, which celebrates writing for and by children, will feature three days of events designed to encourage young writers, share stories, and foster a love of reading.
The weekend begins with the Once Upon A Time banquet at the Hotel Vetro. This event celebrates writing by students at Iowa City-area elementary schools. One student from each of 22 schools will be recognized and will read his or her work. In addition, thanks to a sponsorship from Terry, Lockridge & Dunn/WorldTrend Financial, each participating school will receive a table of 10 for students, parents and educators.
The keynote presentation at that event will be presented by children's book author Candace Fleming and author/illustrator Eric Rohmann.
The pair, who have many books between them, including the collaborative Oh, No! and Bulldozer's Big Day, also will present as part of the second day of the Festival. Events will be held from 1o a.m. to 4 p.m. on Saturday, Feb. 27, at Hotel Vetro. This includes presentations by Fleming and Rohmann, a visit from IPTV's Dan Wardell, costumed book characters, toy trains, a book fair and much more.
In addition, the annual Jr. High Writing Jam with the Iowa Youth Writing Project, and the Comic Book Confidential workshop, this year with artist Jonathan Sims, will be held. Check the website for signup details.
The festival ends on Sunday, Feb. 28, with the Write Out Loud award ceremony, 1-3 p.m. at Macbride Auditorium on the University of Iowa Campus. Students in grades 1-8 from throughout the Corridor submitted a page of original writing to be judged by our partners at Pearson. Two grade level winners will be chosen in each grade, one in each of the following categories:
"The Write Stuff": For language, clarity, structure, and emotional impact.
"From the Heart": For creativity, passion, and expressiveness.
Other students will be recognized with honorable mention awards.
All events on Saturday and Sunday are free and open to the public. A limited number of public tickets are available for the Friday banquet at $25. contact rachael@iowacityofliterature.org for details.